TONKA
Lelionaz Mr. Right of Anns Lions (Tonka) is a son of Leoniitan Washable Lion and Lelionaz Ursus Ponica Exotica and has now earned his International Jungsten Championat.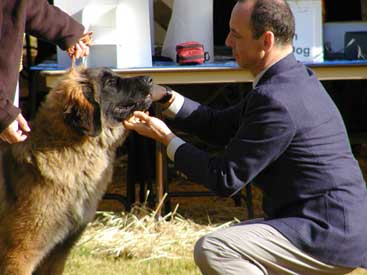 Health info:
OFA hips - Excellent
OFA elbows - Clear
Thyroid- Normal
CERF- Normal
Show Records:
2003 National Specialty CA. 6-9 month puppy 1st place
2203 IBACA OR. Best of Breed Puppy
2003 IABCA OR. Best of Breed Puppy
Judges Comments:
Nice strong male, coat proper color andamp; texture for age. Nice muzzle strong back skull. Bite scissor, dark eyes. Ears proper set. Chest adequate for age. Good layback of shoulder, slightly weak in pasterns. Back angulation, high in rear, narrow at pelvis at this age. Good length in neck, smooth shoulders. Topline high in rear due to growth. Proper tail set andamp length. Movement adequate, temperament excellent. Rated promising - Mrs. Elaine Young
Very promising puppy with good type and lovely expression. Well boned and masculine. Coat excellent colour and length for age. Head, excellent muzzle, strong and well developed. Well squared. In good relation with the skull. Skull has to develop, especially in width. Excellent mask. Lips slightly open, excellent pigmentation. Good eyes, middle brown, third eyelid evident but pigmented. Puppy looking ears, still a bit heavy. Very well developed chest for age. Slightly straight front angulation, front legs are strong for age and well boned. Back angulation, long croup, good wide thigh for age. Stifle angulation could be closer. Good hocks, slightly long pastern. Neck is slightly short. Withers are already strong and wide. Top line good for age. Excellent tail set. Nice movement for age. A bit narrow behind, but well parallel. Shoulders and elbows are still a bit loose. Very nice temperament. Rated Very Promising - Dr. Guido Perosino
Promising puppy with good type. Correct coat, good expression and proportion of head. Good bite, well set eyes and ears. Developing chest, front angulation well laid back, back angulation good bend of stifle. Level and correct topline. Correct tail and sound movement. Rated SG 1 - Mrs. Gallerman
Very promising puppy, typey agile youngster. Coat in good condition. Nice head with dark mask. Good scissor bite. Dark eyes well set into skull. Ears well set on and correct length. Chest not yet developed. Good front angulation, matching rear. Good topline, well set on tail. Moves somewhat sloppy due to age. Rated SG 1 - Mr. de Broyne
Exhibits power. Appears to have nice proportions. Long medium soft coat. Well defined head. Complete scissor bite. Dark eyes, correct ears. Chest adequate depth for puppy. Elbows close fitting, good back angulation. Firm straight topline, broom tail. Ground covering movement. Rated SG 1 - Mrs. Sullivan.
Will be a big dog, excellent coat, good head, excellent topline and tail set, excellent temperament. Rated very promising - Judge HTV.
Large dog with good proportions, good muscle tone adequate in muscle mass, very good coat both condition and colour. Needs more maturity in head, good bite, good eye colour and placement, well placed ears with good leather. Very good chest. Rated Promising - Stan Zelinski.
Tonka's Parents
| | |
| --- | --- |
| Leoniitan Washable Lion | Lelionaz Ursus Ponica Exotica |
Click on the thumbnails for the full view of our photos of Tonka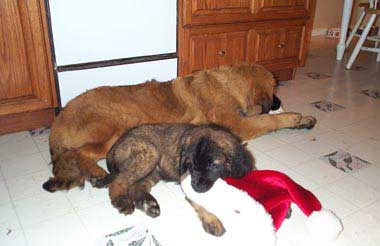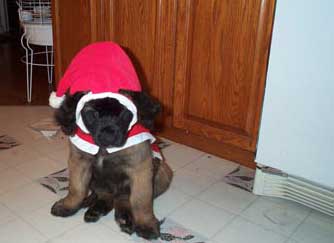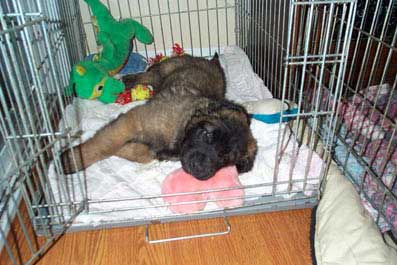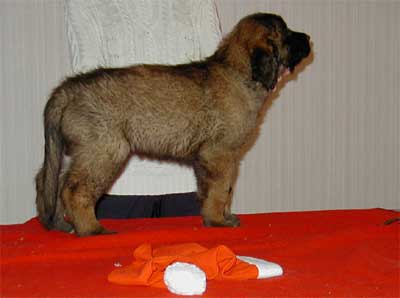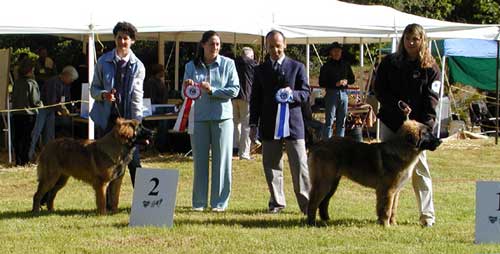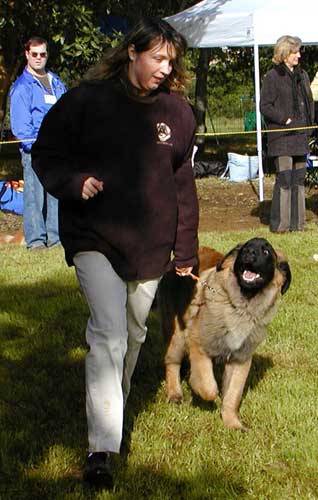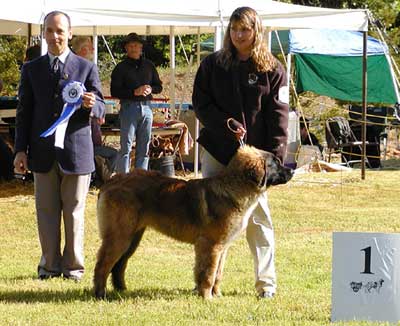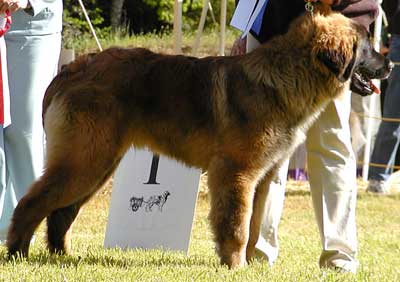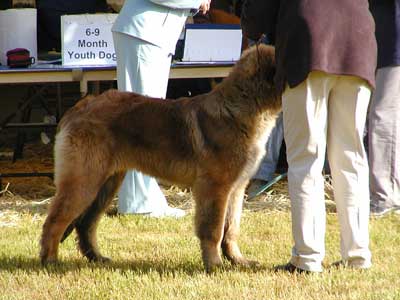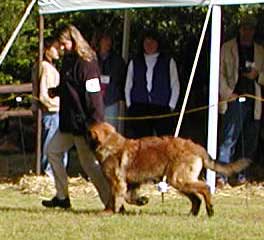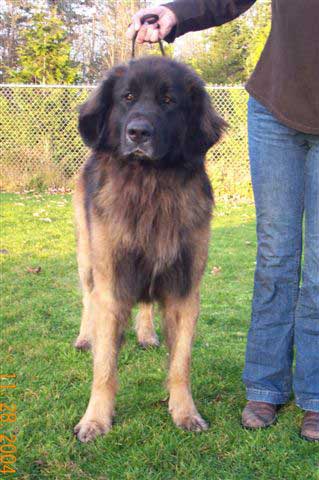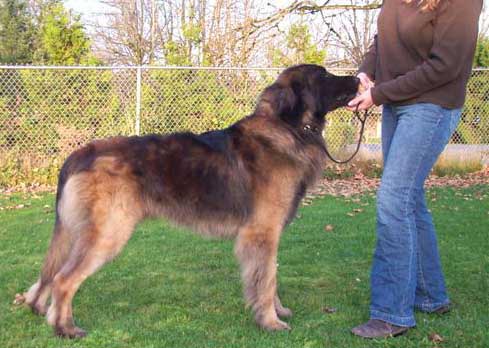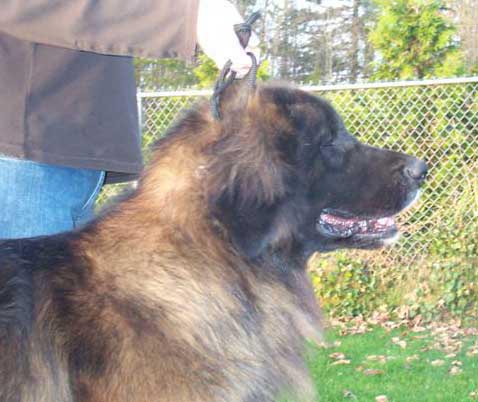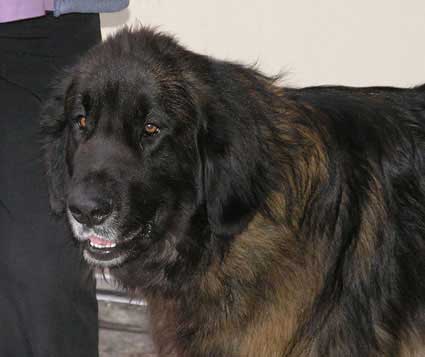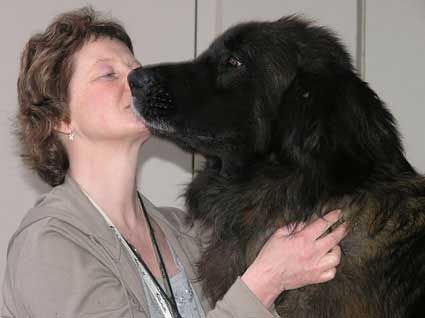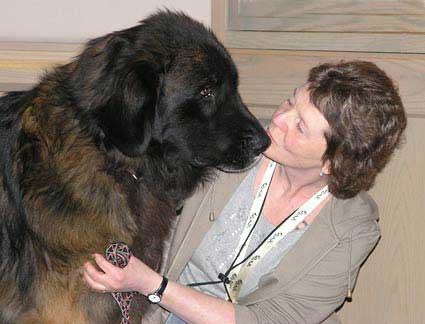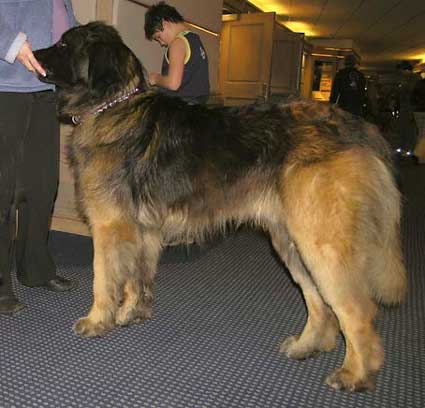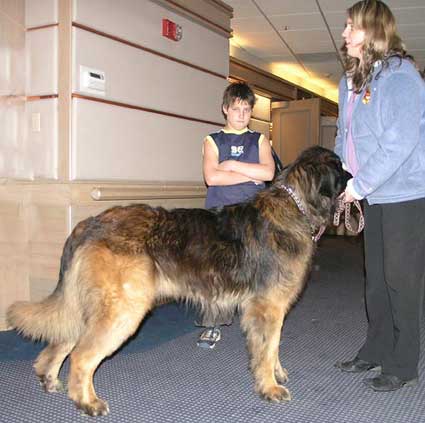 Contact:
Kennel Von Der Lowenhohle
Tel. (604) 514 1100


---
Web design by Web Services BC
©2000-2009 Kennel Von Der Lowenhohle